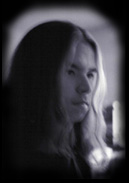 Hi, my name is Brian, sometimes Sith, sometimes Sbrian, feel free to make your own name up for me as everyone else seems to do.

I'm a 21 year old student at Binghamton University studying graphic design. And my career goal? Nothing to do with graphic design. It was a mistake I made while trying to get my life straightened out. My true passion is music. My dream is to find people with similar musical ideas that will help me organize all these mixed up crazy ideas in my head and organize them into a wall of sound, but I'd settle for a job in music marketing.
As a matter of fact, I've been doing street team promotion for about 3 years, spreading the word about great new music. Currently, I work for Roadrunner Records, home of Fear Factory, Machine Head, Type O Negative, Slipknot, Spineshank, Sepultura, Soulfly and much more! I've also done work for Pantera, Nothingface, Puya, Flybanger, Pissing Razors, Biohazard, and Drain STH.
My musical tastes vary from Mr. Bungle, Faith No More, Billy Joel, Pantera, Type O Negative, Ennio Morricone, Cannibal Corpse, Mozart, Machine Head, Dave Matthews Band, Incubus, Dream Theater, Linkin Park, Neil Diamond, Johnny Cash, Black Sabbath, Frank Zappa, The Beatles, and Primus, just to name a few.
Other faves:
Japanese Anime: Ranma 1/2, Cowboy Bebop, Golden Boy, Dragonball Z (SHUT UP!)
Movies: Anything by Tarantino, especially Reservoir Dogs, Fight Club, This Is Spinal Tap, UHF, Anything by Kevin Smith
TV: The State (best sketch comedy show EVER), Simpsons, old SNL (before they weren't funny anymore) VH-1's Behind The Music (Wow, I actually watched the Journey story, scary...)